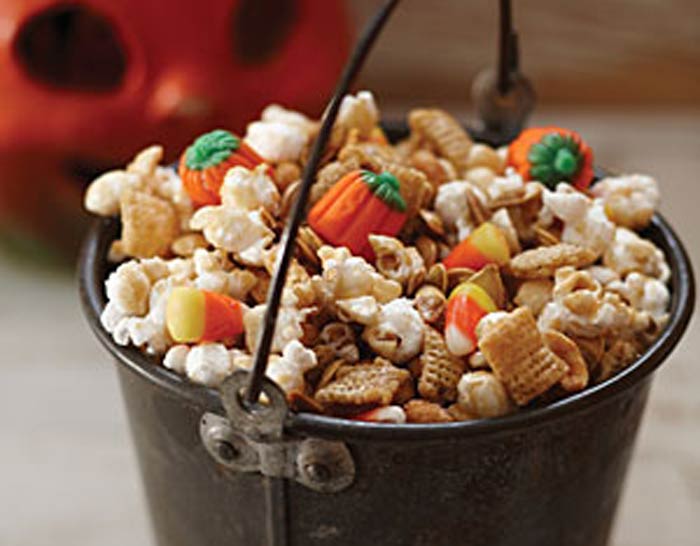 INGREDIENTS:
4 cups Bite-sized crispy cereal squares
4 cups Popped kettle corn or regular popcorn
1 cup Honey-roasted peanuts
1 cup Salted-roasted pumpkin seeds
1/4 cup Butter
6 tablespoons Brown sugar, packed
2 tablespoons Light corn syrup
1/4 teaspoon Vanilla extract
1/4 teaspoon Pumpkin pie spice
1 cup Candy corn and/or candy pumpkins
DIRECTIONS:
In a 4-quart microwave-safe bowl, mix together cereal, popcorn, peanuts and pumpkin seeds; set aside. In a microwave-safe bowl, combine butter, brown sugar, corn syrup and vanilla. Microwave, uncovered on high setting for about 2 minutes, until mixture is boiling; stir after one minute. Stir in spice. Pour over cereal mixture and stir until evenly coated. Microwave 5 minutes, stirring after every minute. Spread on wax paper. Let cool for about 15 minute, stirring occasionally to break up large pieces. Add candy and toss to mix. Store in an airtight container.