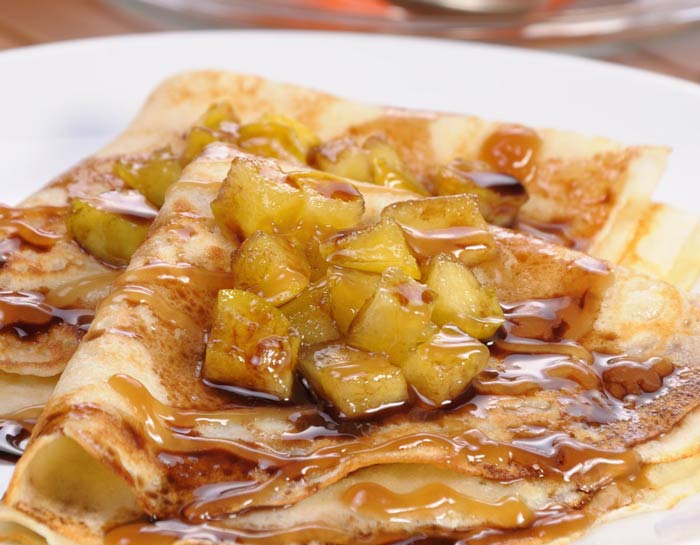 INGREDIENTS:
Crepes:
1 c. flour
1 1/2 c. milk
2 eggs
2 Tbsp. sugar
1 Tbsp. vegetable oil
2 tsp. lemon peel
1/8 tsp. salt
Filling:
4 apples, peeled and quartered
1/4 c. sugar
1 tsp. cinnamon
Sauce:
1 2/3 c. water
1/3 c. brown sugar, packed
1/2 tsp. cinnamon
1/2 tsp. nutmeg
2 Tbsp. butter
2 Tbsp. lemon juice
1 tsp. vanilla
DIRECTIONS:
Crepes: Combine all and beat until smooth. Heat a lightly 6″ skillet. Remove from heat. Add 2 Tbsp. batter and tilt skillet to distribute evenly. Return to heat and brown on one side only. Remove crepe and repeat process. Filling: Place peeled apple quarters on unbrowned side of crepe. Combine sugar and cinnamon. Sprinkle some on apple and fold crepe over to form a square pocket. Place crepes, fold down, in an ungreased 7×11″ baking pan. Sauce: Combine water, brown sugar, cinnamon, and nutmeg. Simmer for five minutes, then add remaining ingredients and stir until butter is melted. Pour over crepes. Bake, uncovered, at 375° for 40-45 minutes.