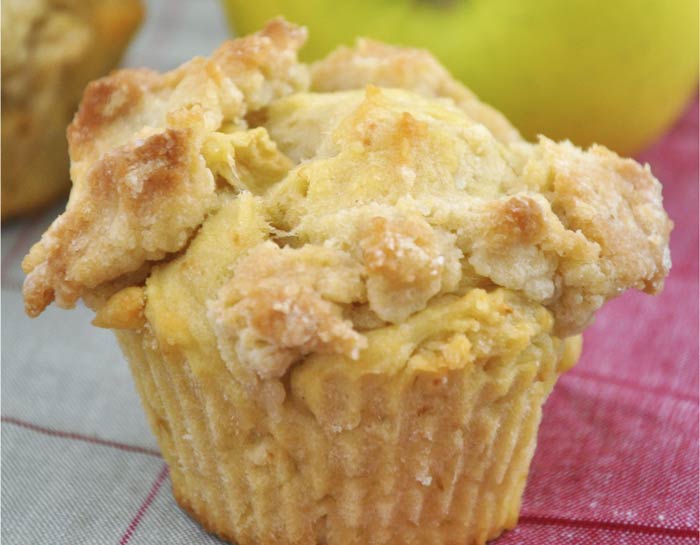 INGREDIENTS:
2 cups All-purpose flour
1 cup Sugar
1 tsp. Baking powder
1/2 tsp. Baking soda
1/2 tsp. Salt
2 Eggs
1/2 cup Melted butter
1 1/4 tsp. Vanilla
1 1/2 cups Peeled, chopped tart apples
Streusel Topping:
1/3 cup Brown sugar
1 Tbsp. All-purpose flour
1/8 tsp. Cinnamon
1 Tbsp. Cold butter
Glaze:
1 1/2 cups Powdered sugar
1-2 Tbsp. Milk
1 tsp. Butter, melted
1/4 tsp. Vanilla
1/8 tsp. Salt
DIRECTIONS:
In a bowl, combine flour, sugar, baking powder, soda and salt. In another bowl, whisk eggs, butter and vanilla; stir into dry ingredients just until moistened (batter will be stiff). Fold in apples. Fill greased or lined muffin cups 3/4 full. Streusel: In a small bowl, combine brown sugar, flour and cinnamon. Cut in butter until crumbly; sprinkle over batter. Bake at 375° for 15-20 minutes or till a toothpick comes out clean. Glaze: Combine ingredients; drizzle over completely and cool muffins. Yield: 1 dozen.