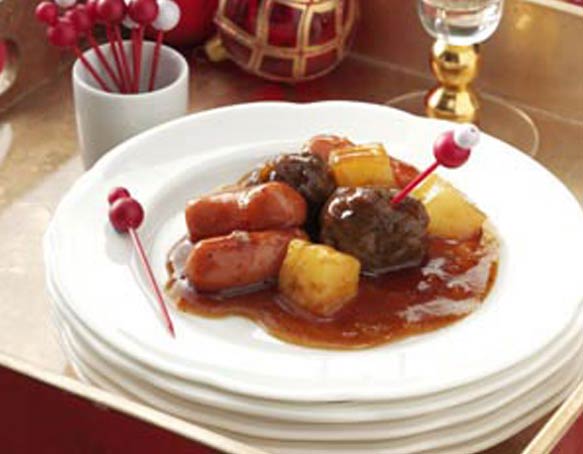 INGREDIENTS:
1 pound ground beef
1/4 finely chopped onion
1 package (16 ounces) miniature hot dogs or smokies, drained
1 jar (12 ounces) apricot preserves
1 cup barbecue sauce
1 can (20 ounces) pineapple chunks, drained
DIRECTIONS:
In a large bowl, combine the ground beef and onion, mixing lightly but thoroughly. Shape the mixture into 1-in. balls. In a large skillet over medium heat, cook the meatballs in two batches until cooked through, turning occasionally. Using a slotted spoon, transfer the meatballs to a 3-qt. slow cooker. Add the miniature hot dogs; stir in apricot preserves and barbecue sauce. Cook, covered on high 2-3 hours or until heated through. Stir in the pineapple chunks; cook, covered, 15-20 minutes longer or until heated through.