Cappuccino Cinnamon Rolls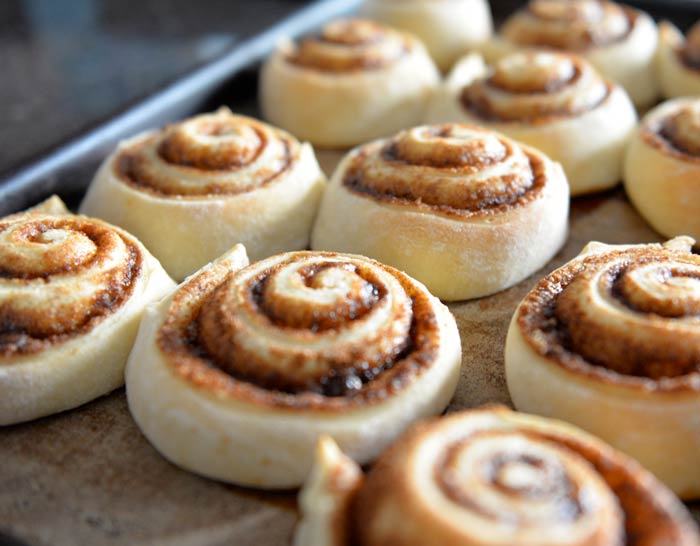 INGREDIENTS:
1 pkg. yeast
1 c. warm water
3/4 c. warm milk
1/2 c. buttermilk
3 Tbsp. sugar
2 Tbsp. butter, softened
1 1/4 tsp. salt
4 c. flour
1 1/2-2 c. flour
Filling:
1/4 c. butter
1 c. brown sugar
4 tsp. instant coffee
2 tsp. cinnamon
Icing:
2 Tbsp. butter, softened
1-2 Tbsp. milk
2 tsp. cappuccino mix
1 1/2 c. powdered sugar 1/2 tsp. vanilla
DIRECTIONS:
Dissolve yeast in warm water. Add next six ingredients to yeast mixture. Beat on medium speed. Stir in rest of flour to form soft dough. Dough will be sticky. Cover and let rise until double, about 1 hour. Turn out onto floured surface. Roll into an 18×12 inch rectangle. Filling: Brush butter onto rolled out dough. Combine sugar, coffee, and cinnamon. Sprinkle over dough. Roll up jelly roll style. Cut into 12 slices. Place in greased pan, cover and let rise till double, about 30 minutes. Bake at 350° for 25 minutes. Makes 1 dozen. Icing: Beat together until smooth. Spread over rolls.