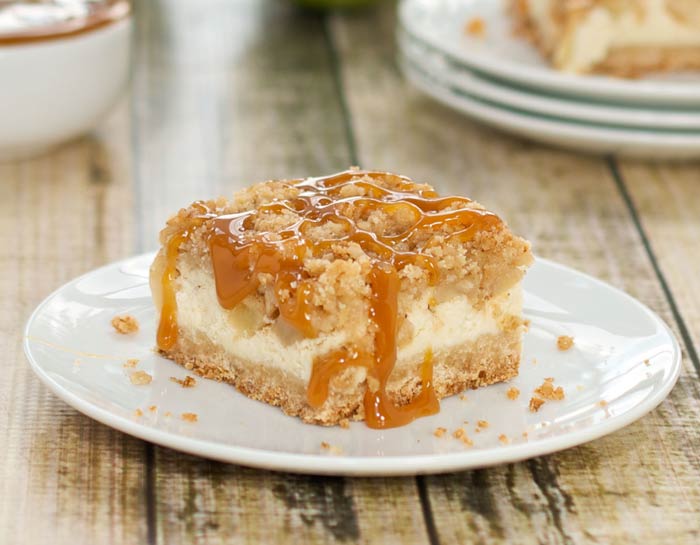 INGREDIENTS:
Crust:
2 c. Flour
1/2 c. Brown sugar
1 c. Butter, softened
Cheesecake Filling:
24 oz. Cream cheese, softened
3/4 c. + 2 Tbsp. Sugar, divided
3 lg. Eggs
1 1/2 tsp. Vanilla
Apple Mixture:
3 Apples, peeled and finely chopped
1/2 tsp. Cinnamon
1/4 tsp. Nutmeg, optional
Streusel Topping:
1 c. Brown sugar
1 c. Flour
1/2 c. Quick oats
1/2 c. Soft butter
DIRECTIONS:
Preheat oven to 350°. Press crumbs from crust into a 9″x13″ pan. Beat cream cheese with 3/4 cup sugar till smooth. Add eggs one at a time. Add vanilla; stir. Pour over crust. Stir together apples, 2 tablespoon sugar, cinnamon, and nutmeg. Spoon over cream cheese mixture. Sprinkle with streusel topping. Bake 40-45 minutes or till set. Drizzle with caramel topping and cool. May use half batch of cream cheese filling. Serves 15-20 people.servings.