Caramel Macchiato Cheesecake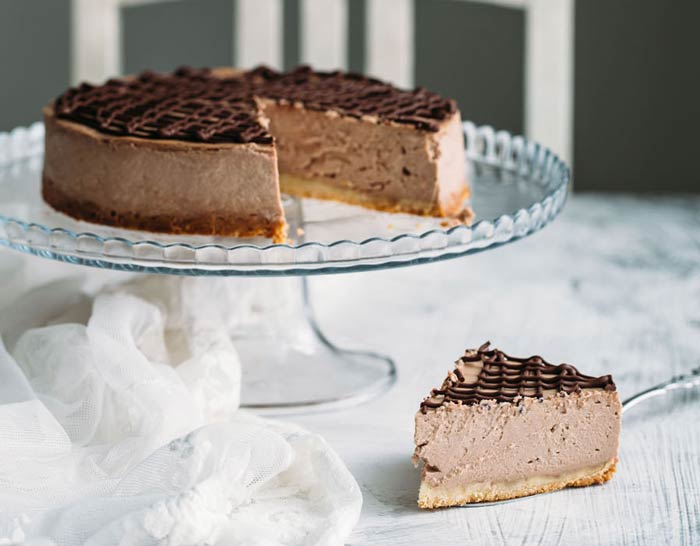 INGREDIENTS:
1 1/2 c. flour
1/4 c. pecans, finely chopped
1/2 c. butter, softened
1/4 c. chocolate chips
1/4 c. instant coffee
1/2 c. boiling water
1 Tbsp. plain gelatin
1/4 c. cold water
1/2 c. caramel ice cream topping
3-(8 oz.) cream cheese, softened
1 1/4 c. sugar
3/4 c. chocolate chips
1/2 c. heavy whipping cream
DIRECTIONS:
Mix together first 3 ingredients to make soft crumbs. Lightly pat into greased 9 inch springform pan. Bake at 350° for 15 minutes or till lightly browned. Stir together next 3 ingredients to dissolve. Set aside. Soften gelatin in the cold water. Let set 2 minutes, then heat on low heat for 2-3 minutes, until clear and completely dissolved. Whisk into coffee mixture and stir in caramel syrup. Beat together cream cheese and sugar till fluffy and smooth. Add coffee/gelatin mixture, beat well. Pour over crust and refrigerate overnight. Heat 3/4 c. chocolate chips and whipping cream in double boiler to melt, whisk till smooth. Spoon over top of chilled cheesecake, letting some drizzle down the sides. Garnish with Cool Whip, fresh raspberries, blueberries or strawberries.