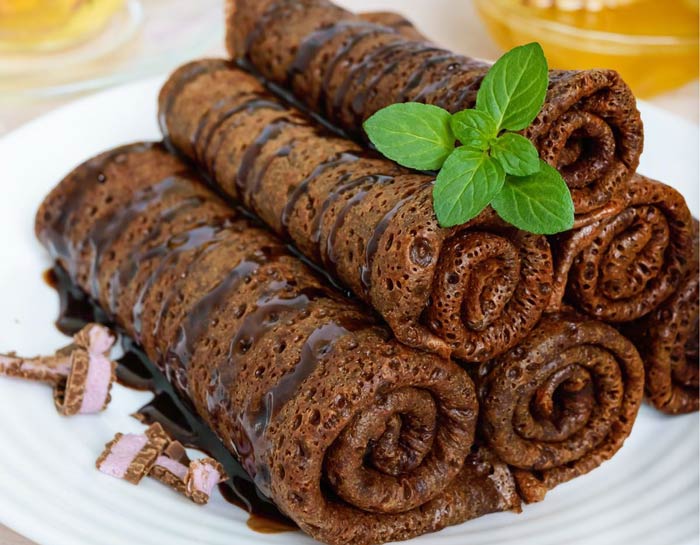 INGREDIENTS:
Crepes:
1 c. flour
2 lg. eggs
1/2 c. milk
1/2 c. water
1/4 tsp. salt
3 Tbsp. sugar
1 Tbsp. cocoa powder
2 Tbsp. butter, melted
Filling:
1 (3.9 oz.) pkg. instant chocolate pudding
1 c. heavy whipping cream
Glaze:
1/2 c. Nutella
1/4 c. milk or cream
DIRECTIONS:
Combine the first 3 ingredients in blender, blend till no lumps remain. Add the next 5 ingredients, blend again. Refrigerate batter for 1 hour before cooking crepes. Heat 8 or 10″ non-stick skillet, lightly brush with butter. Pour scant 1/4 cup batter into skillet, tilt to coat bottom. Cook 1-2 minutes, until edges curl and bottom is lightly browned. Flip and cook another 30 seconds. Cool on wire rack, then stack with parchment paper between each crepe. Filling: Beat together till thickened. Glaze: Combine in small pan, heat on medium and whisk till cooking and smooth, about 3 minutes. To assemble: Place crepe on plate, fill with 2 tablespoons filling, roll up or fold in half. Drizzle with glaze. Close your eyes and enjoy. Notes: •Wondra flour is available at Wal-Mart, is recommended for crepes. The batter needs to rest only 10 minutes, rather than 1 hour. • Substitute selzer water for the water, as it is carbonated and helps to aerate batter, making lighter, more delicate crepes. • Variation: Use instant vanilla pudding, then sprinkle with fresh blueberries or strawberries.