Chocolate Peanut Butter Pancakes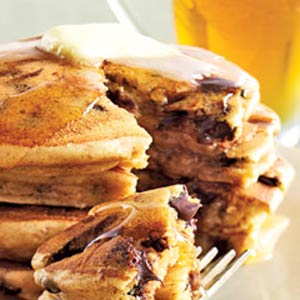 INGREDIENTS:
2 c. Whole wheat flour
2 tsp. Baking powder
1 tsp. Salt
2 Eggs, well beaten
2 c. Milk
2 Tbsp. Canola oil
1 tsp. Vanilla
1 tsp. Cinnamon
3 Tbsp. Peanut butter, melted
3 Tbsp. Chocolate chips
DIRECTIONS:
Stir together dry ingredients. Add eggs, milk, vanilla and oil. Stir until
dry ingredients are moistened. Stir in peanut butter. Cook on preheated
pan until bubbles form and edges start to dry. Drop in chocolate
chips. Flip and cook until lightly browned.