Chocolate Peanut Butter Pizza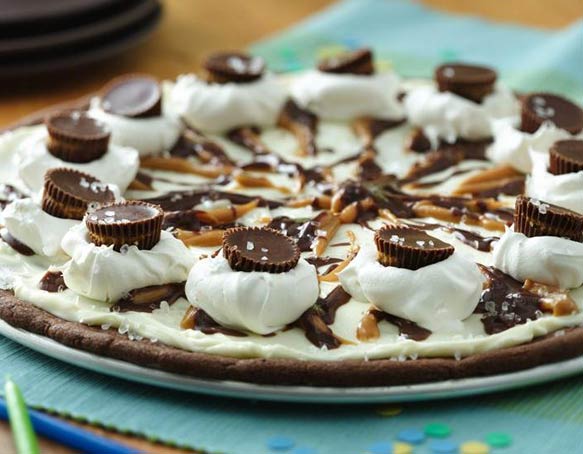 INGREDIENTS:
1 c. melted butter
2 c. sugar
2 tsp. vanilla
4 eggs
1/2 tsp. baking powder
1 c. flour
2/3 c. cocoa
1/2 tsp. salt
1/2 c. nuts
1 c. peanut butter
1 1/2 c. milk
1 (4 oz.) instant chocolate pudding mix
1 (16 oz.) Cool Whip
DIRECTIONS:
Blend butter, sugar and vanilla. Add eggs. Gradually add flour, cocoa, baking powder and salt. Stir in nuts. Spread in greased 9×13 pan or 12-inch pizza pan. Bake at 350° for 20-25 minutes or until brownies begin to pull away from edge of pan. Spread with peanut butter while still warm. Let cool. Mix milk and pudding mix. When partly set, spread on peanut butter. Top with Cool Whip. Garnish with shaved chocolate or chocolate syrup or caramel. Rich but yummy!