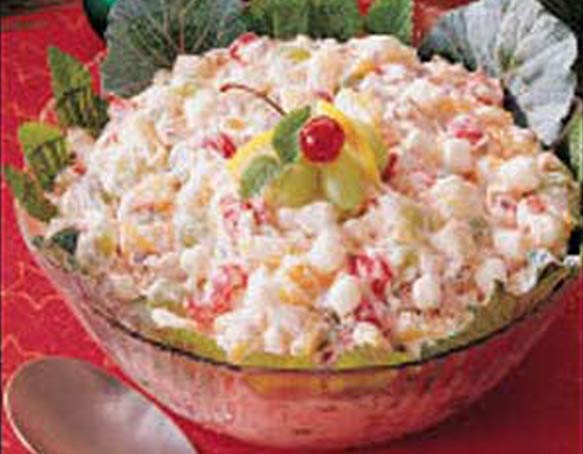 INGREDIENTS:
3 Egg yolks, beaten
3 Tbsp. Water
3 Tbsp. Vinegar
1/2 tsp. Salt
2 c. Whipping cream, whipped
3 c. Mini marshmallows\
2 c. Green grapes, halved
1 (20 oz.) can Pineapple, drained
1 can Mandarin oranges, drained
1 (10 oz.) jar Maraschino cherries, sliced
1 c. Chopped pecans
3 Tbsp. Lemon juice
DIRECTIONS:
In large saucepan, combine egg yolks, water, vinegar and salt. Cook over medium heat, stirring constantly, until mixture thickens and reaches 160°. Remove from heat and cool. Fold in whipped cream. In large bowl, combine marshmallows, green grapes, pineapples, oranges, cherries, pecans and lemon juice. Combine with egg yolk mixture and toss to coat.