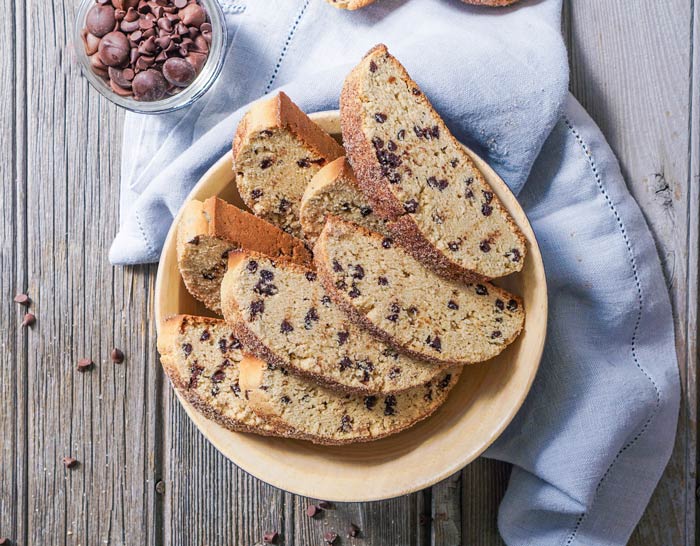 INGREDIENTS:
1/2 c. butter, softened
1/2 c. brown sugar
1/2 c. sugar
1 Tbsp. instant coffee
2 eggs
1 tsp. vanilla
2 c. flour
1 1/2 tsp. baking powder
1/4 tsp. salt
1/2 tsp. cinnamon
1 c. chopped pecans
1 c. semi-sweet chocolate chips
DIRECTIONS:
Preheat oven to 325°. Combine butter, sugars, and coffee granules; beat in mixer until light and fluffy. Add eggs, beating well. Add vanilla. Add flour, baking powder, salt, and cinnamon; mix well. Fold in pecans and chocolate chips. Line a baking sheet with parchment paper. Scoop dough out onto paper and form into a large rectangle 3/4″ thick. Bake 25 minutes or until firm. Cool for 10 minutes. Use serrated knife and cut dough into 1/2″ thick slices. Place on a parchment-lined baking sheet and return to oven for 8 minutes. Turn and bake 8 minutes more. Remove from oven and cool completely. Store in airtight container. Serves 8 people.