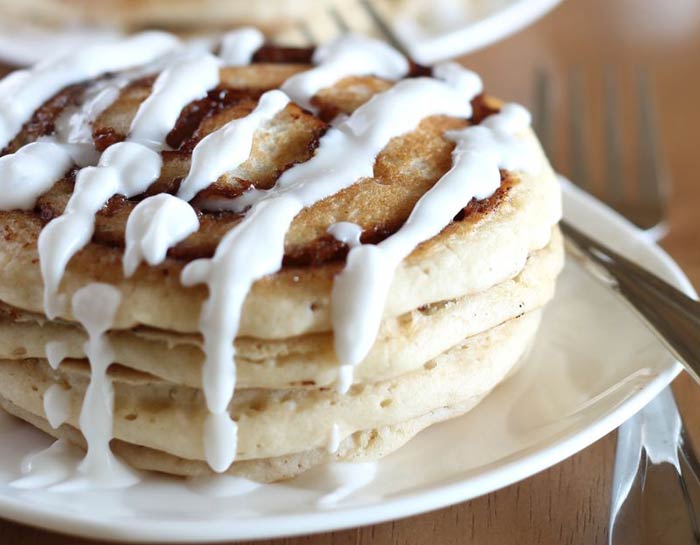 INGREDIENTS:
Pancake Batter:
1 c. flour
2 tsp. baking powder
1/2 tsp. salt
1 c. milk
1 lg. egg, beaten
1 Tbsp. vegetable oil
Cinnamon Filling:
2 Tbsp. unsalted melted butter
3 Tbsp. brown sugar
1 tsp. cinnamon
Cream Cheese Glaze:
4 Tbsp. salted butter
2 oz. cream cheese, softened
3/4 c. powdered sugar
2 tsp. vanilla
DIRECTIONS:
Combine ingredients for cinnamon filling and pour into a sandwichsize bag. In a medium size bowl, whisk together pancake batter. Fry on low heat. Let pancakes set up for 30 seconds on griddle. Then snip one corner of the bag with cinnamon filling and pour in a swirl on top of each pancake. It works best to have the filling set up a bit before pressing out of the bag. Melt butter for the glaze in a small, heavy saucepan. Whisk in the cream cheese until smooth. Blend in powdered sugar and vanilla. Remove from heat. Serve over warm pancakes.