Cinnamon Streusel Pancakes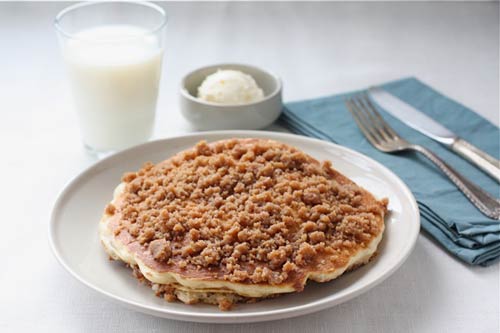 INGREDIENTS:
2 c. Flour
2 T. Sugar
2 t. Baking powder
1 t. Soda
1/2 t. Salt
2 c. Buttermilk
2 Eggs
1/4 c. Oil
1 t. Vanilla
Streusel:
1 c. Flour
1 c. Brown sugar, packed
2 t. Cinnamon
3/4 c. Butter, cut into chunks
DIRECTIONS:
In a large bowl, whisk together flour, sugar, baking powder, soda, and
salt. In separate bowl mix buttermilk, eggs, oil, and vanilla. Add dry
ingredients and stir until combined. Do not over mix. Batter will be
slightly lumpy. Mix streusel ingredients with your hands or a fork until
crumbly. Set aside. Heat griddle and coat with cooking spray. Drop 1
cup batter onto griddle and top with 2 to 3 tablespoons streusel.