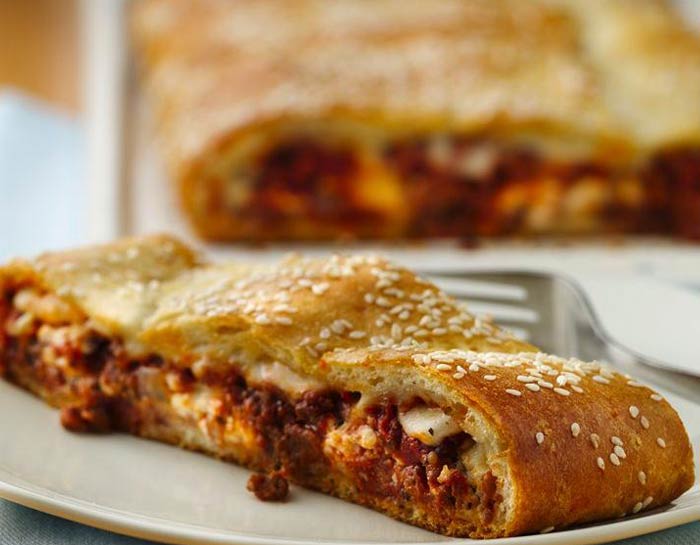 INGREDIENTS:
1 lb. Ground beef
1/2 c. Chopped onions
1 (6 oz.) can Tomato paste
1/2 tsp. Garlic salt
1 tsp. Parsley flakes
1/2 tsp. Basil
1/2 tsp. Oregano
1/2 tsp. Salt
Dash of pepper
Brown ground beef and onions in skillet. Stir in remaining ingredients; set aside.
1 c. Cottage cheese
1 Egg
1/4 c. Mozzarella cheese
Combine all ingredients; set aside.
2 (8 oz.) tubes Crescent rolls
Sliced mozzarella cheese
1 T. Milk
1 T. Sesame seeds
DIRECTIONS:
Unroll 1 tube of crescent roll dough. Place rectangles together on a greased baking sheet to form a 13 x 15-inch rectangle. Press edges together. Spread 1/2 of meat filling to within 1 inch of edge. Top with cheese filling. Spoon remaining meat filling on top. Place cheese
slices over meat filling. Unroll remaining tube of crescent rolls and place on top. Pinch edges together. Brush with milk; sprinkle with sesame seeds. Bake uncovered at 375° for 20-25 minutes. Serves 6.