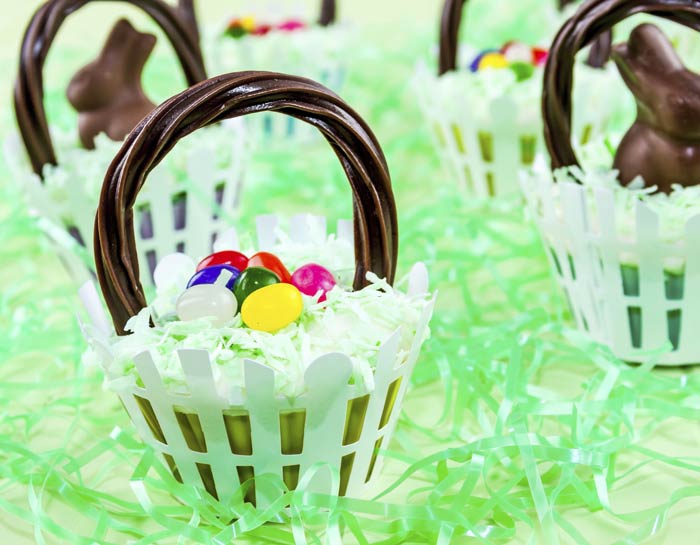 INGREDIENTS:
1 box chocolate cake mix
1 (16 oz.) can vanilla or cream cheese frosting
2 1/2 c. sweetened coconut, tinted
green food coloring
jelly beans or any desired Easter candy
24 Twizzlers strawberry twists or any flavor twists
DIRECTIONS:
This is a fun treat to make with your children over Easter. Also a great idea for school birthday parties. Prepare cake mix according to directions on box. Line cupcake pans with paper liners. Fill liners 2/3 full with batter. Bake at 350° for 20 minutes. Cool. To tint coconut: combine several drops of green food coloring with 1 1/2 tsp. water; add to coconut and stir until evenly tinted. To Make Easter Baskets: Frost each cupcake with icing. Make "nest" on top of each one with tinted coconut; place jelly beans in "nest". For the handles, insert a wooden pick in each end of the strawberry twists; press down into each side of the cupcake, bending to form a handle. Yield: 24 servings. Note: May sit a chocolate bunny in the nest instead of eggs.