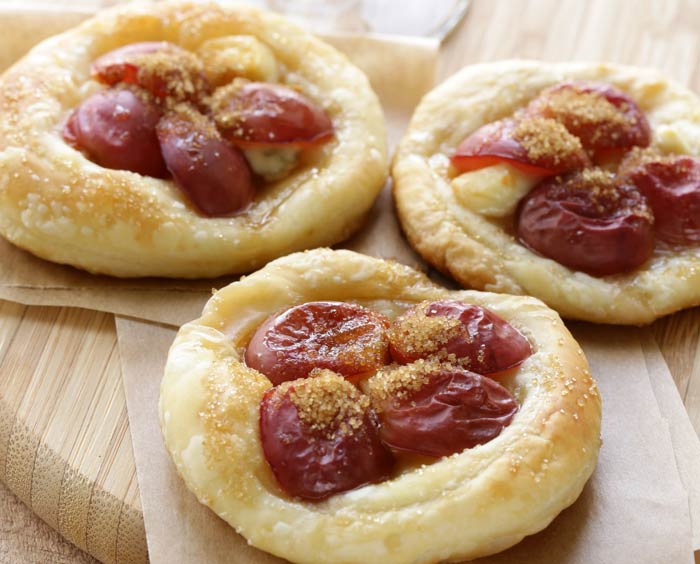 INGREDIENTS:
1/2 standard package frozen puff pastry (about 8 1/2 ounces), thawed
1 large egg yolk
1 tablespoon heavy cream
2 cups red and green seedless grapes (about 3/4 pound)
2 tablespoons granulated sugar
Pinch of salt
Sanding sugar, for sprinkling
DIRECTIONS:
Preheat oven to 400 degrees. On a lightly floured work surface, unfold pastry. Cut into 4 squares (4 3/4 inches each). Transfer to a rimless baking sheet. Using the tip of a paring knife, score a 1/2-inch border around edges of squares, being careful not to cut all the way through pastry. Refrigerate until firm, about 15 minutes.
Whisk together egg yolk and cream; set egg wash aside. Toss together grapes, granulated sugar, and salt in a medium bowl. Divide grape mixture among tart shells, keeping it inside the borders. Brush edges of tarts with egg wash, and sprinkle with sanding sugar. Bake until pastry is crisp and golden and grapes are just beginning to collapse, 23 to 27 minutes. Let cool on sheet on a wire rack.