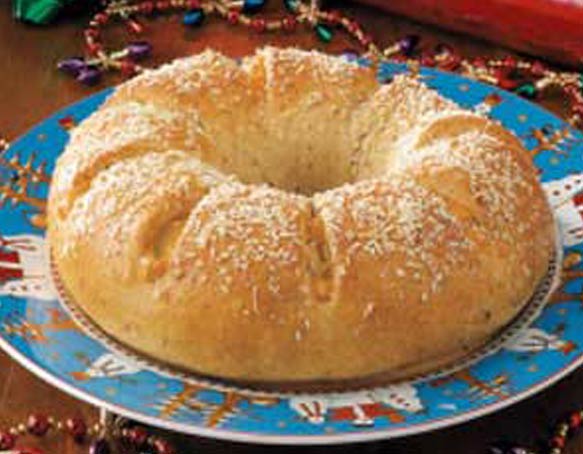 INGREDIENTS:
1 Tbsp. yeast
1/4 cup warm water
1 cup warm milk
1/4 cup vegetable oil
2 Tbsp. oil
2 Tbsp. honey
1 egg
1 tsp. salt
1 cup whole wheat flour
2 1/2 cups all-purpose flour
1 tsp. each of oregano, basil, and rosemary
Filling:
1 1/2 cups shredded cheddar cheese
1/2 tsp. parsley flakes
1/4 tsp. garlic powder
1/4 tsp. paprika
Topping:
1 egg, beaten
2 tsp. sesame seeds
4 tsp. Parmesan cheese
DIRECTIONS:
Dissolve yeast in warm water. Add rest of ingredients and knead until dough is soft and elastic. Let rise approx. 30 minutes. Divide dough in half. Roll one portion into a 15×10″ rectangle. Combine filling ingredients. Sprinkle half of filling over dough. Starting with a long side, roll up jelly-roll style. Pinch seams to seal. Place seam side down on a greased baking sheet; pinch ends together to form a ring. With a sharp knife or scissors, cut 1/2″ slashes at 2″ intervals. Repeat and make another ring with remaining dough and filling. Let rise about 30 minutes. Brush each ring with egg; sprinkle with sesame seeds and Parmesan. Bake for 20-25 minutes or until golden brown.