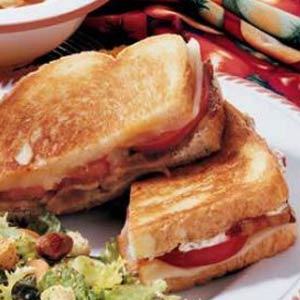 INGREDIENTS:
1/4 c. sour cream
2 Tbsp. chopped onion
1/2 tsp. oregano
1/4 tsp. seasoned salt
8 slices Italian or white bread
8 bacon pieces, fried
8 slices tomato
4 slices mozzarella cheese
butter, softened
DIRECTIONS:
Combine sour cream, onion, oregano and seasoned salt; spread on four slices of bread. Top each with 2 pieces of bacon, 2 tomato slices and a slice of cheese. Top with remaining bread. Spread butter on the outside of bread. Fry on skillet until golden brown. Serves 4 people. This is a yummy twist on the grilled cheese sandwich!