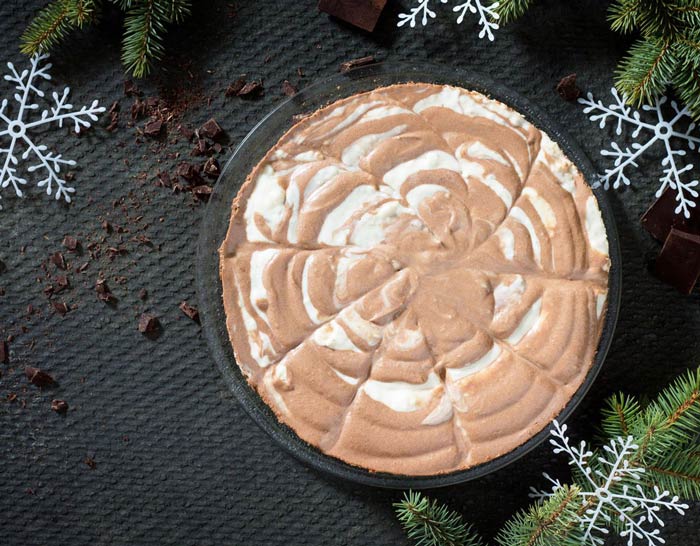 INGREDIENTS:
6 oz. chocolate wafers
3 Tbsp. melted butter
2 qt. coffee ice cream, softened
1/3 c. chocolate covered coffee beans
2 1/4 c. whipping cream
1/2 tsp. vanilla
3/4 c. powdered sugar
1/2 c. + 1 Tbsp. unsweetened cocoa powder
Milk chocolate shavings
DIRECTIONS:
Blend wafers in processor till finely ground. Add butter. Press onto bottom of 9″ springform pan with 2 3/4″ sides. Freeze for 10 minutes or until firm. Place ice cream in bowl. Finely chop coffee beans. Add to ice cream and stir till blended. Put on top of crust and cover with plastic wrap. Freeze overnight. Combine cream, vanilla, powdered sugar, and cocoa and beat till soft peaks form. Spread mixture over top of cake. Freeze until cream is set, at least 1 hour. (Can be made 2 days ahead. Cover, keep frozen.) Sprinkle chocolate shavings over top of cake. Run knife between pan sides and cake to loosen. Remove pan sides. Using small metal spatula or knife, smooth cake sides. Let cake stand at cool room temperature 10 minutes before serving. Note: May make a brownie crust by baking a brownie mix in the bottom of springform pan and press the chocolate wafer up the sides of the springform pan.