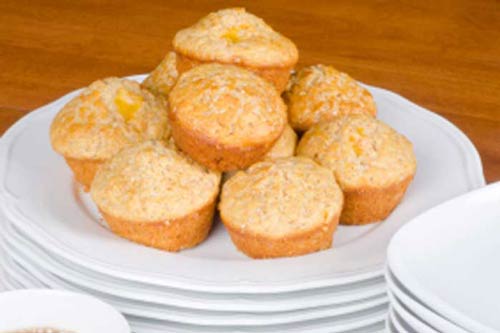 INGREDIENTS:
3 c. Flour
1 Tbsp. Cinnamon
1 tsp. Baking soda
1 tsp. Salt
1 1/4 c. Vegetable oil
3 eggs, Lightly beaten
2 c. Sugar
2 c. Peaches, peeled and chopped
DIRECTIONS:
In a large bowl, mix flour, cinnamon, baking soda and salt. In a separate bowl, mix vegetable oil, eggs and sugar. Stir the oil mixture into the flour mixture just until moist. Fold in peaches. Spoon into prepared muffin cups. Bake at 400° for 25 minutes or until toothpick inserted in the center of a muffin comes out clean. Cool 10 minutes before turning onto a wire rack to cool completely. Yield: 16 servings.