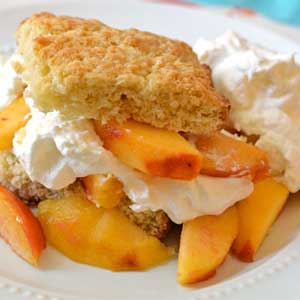 INGREDIENTS:
1/2 c. Shortening
1 1/4 c. Sugar
2 Eggs
2 1/2 c. Flour
1/2 tsp. Salt
1 Tbsp. Baking powder
1 c. Milk
1 tsp. Vanilla
16 oz. Cool Whip or whipped cream
peaches or your favorite fruit, sweetened or unsweetened
DIRECTIONS:
Beat shortening, sugar, and eggs together until fluffy. Add dry ingredients alternately with milk and flavoring. Bake in a greased round cake pan at 350° for 30-35 minutes. Chop into bite size pieces and layer with Cool Whip and fruit. Yield: 12-14 servings.