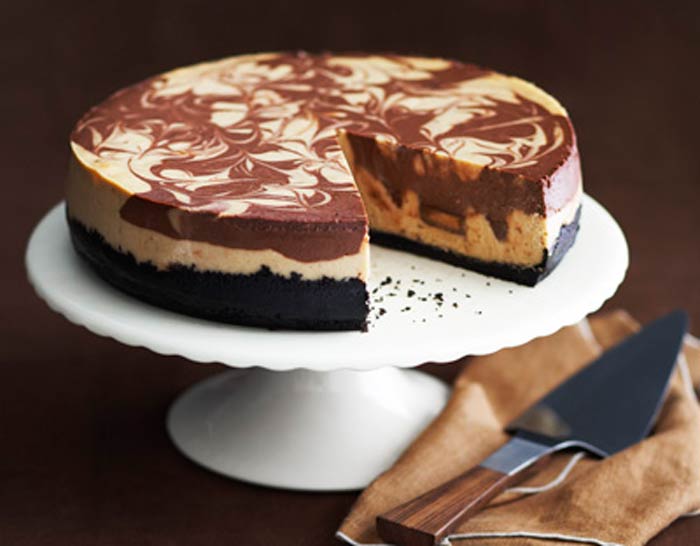 INGREDIENTS:
1 1/4 c. Graham cracker crumbs
1/4 c. Sugar
1/4 c. Chocolate sandwich cookie crumbs
6 Tbsp. Butter, melted
3/4 c. Creamy peanut butter
3 (8 oz.) pkg. Cream cheese, softened
1 c. Sugar
1 c. Sour cream
3 Eggs, lightly beaten
1 1/2 tsp. Vanilla
1/4 c. Hot fudge ice cream topping
6 Peanut butter cups, cut into small wedges
DIRECTIONS:
Combine cracker crumbs, sugar, cookie crumbs and butter. Press into bottom and 1″ up sides of greased 9″ springform pan. Bake at 350° for 7-9 minutes. Cool. Heat peanut butter on high 30 seconds; spread over crust. Beat cream cheese, sugar and sour cream. Add eggs; stir just until combined. Stir in vanilla. Reserve 1 cup; pour remaining over peanut butter. Heat fudge on high 30 seconds; fold into 1 cup filling. Pour over filling; cut through with knife to swirl. Bake at 350° for 55-65 minutes or until almost set. Cool 10 minutes. Run knife around edge of pan to loosen. Cool 1 hour. Garnish with additional hot fudge topping and peanut butter cups. Serves 14 people.