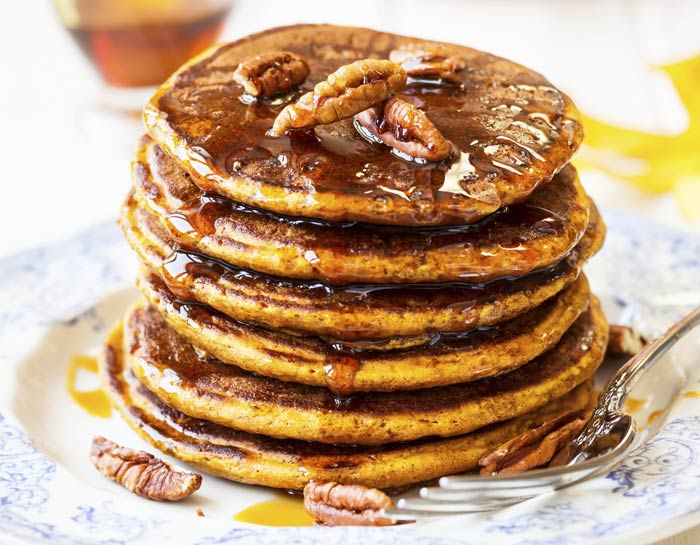 INGREDIENTS:
1 1/4 c. All-purpose flour
2 Tbsp. Brown sugar
2 tsp. Baking powder
1/4 tsp. Salt
3/4 tsp. Ground cinnamon
1/4 tsp. Ground nutmeg
dash of Ground ginger
dash of Ground cloves
1 c. Milk
1/2 c. Pumpkin puree
1 large Egg
2 Tbsp. Vegetable or melted butter
DIRECTIONS:
In a medium mixing bowl, combine the flour, brown sugar, baking powder, salt and spices and stir with a fork to combine. Mix together the milk, pumpkin puree, egg and oil or butter. Add the wet ingredients to the dry ingredients and whisk together just until combined. Heat a greased skilled or griddle over medium heat. Once the skillet is hot, add 1/3 cup scoop of batter to the pan. Let cook until bubbles begin to form on the top surface. Carefully flip with a spatula and cook the second side until golden brown, a couple minutes more. May heat oven to 200°, then place pancakes inside to stay warm while remainder are being made. Repeat with the rest of the batter until all of it has been cooked, regreasing the pan as needed. Serve with cinnamon sugar, maple syrup and/ or whipped cream.