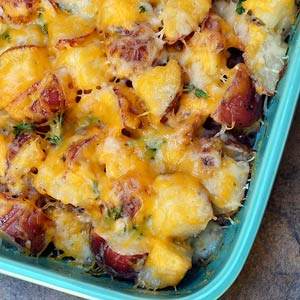 INGREDIENTS:
7 medium Potatoes
1/4 cup cubed Butter
1 cup (8 oz.) Sour cream
1 envelope Ranch salad dressing mix
1 cup shredded Cheddar cheese
DIRECTIONS:
Cut potatoes into 1/2″ cubes. Place in greased 7×11″ baking dish; dot with butter. Cover and bake at 325° for 60-65 minutes or until tender. Combine sour cream and Ranch dressing mix; spoon over potatoes. Sprinkle with cheese. Bake uncovered, 5-10 or until cheese is melted. Delicious! Yield: 8 servings.