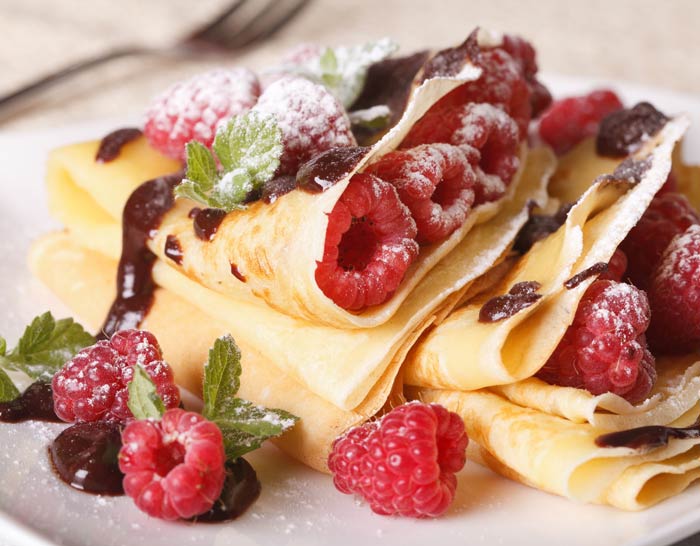 INGREDIENTS:
3/4 c. milk
2 eggs
1 Tbsp. melted butter
3/4 c. flour
1 tsp. vanilla
Raspberry Cream Filling:
1-(8 oz.) cream cheese
2/3 c. powdered sugar
8 oz. whipped topping
1 1/2-2 c. raspberries
DIRECTIONS:
Blend all ingredients in blender. Refrigerate one hour. In small nonstick round pan fry crepes on medium heat. Melt a small amount of butter in pan prior to adding each crepe. Pour just enough batter into pan to cover bottom of pan, about 1/4 cup in an 8 inch skillet. When bottom seems dry, flip and fry other side lightly. Lay out on trays or waxed paper to cool. Fill with raspberry cream filling and garnish as desired. Drizzle with warmed raspberry jam, or drizzle with a tiny bit of chocolate syrup, or top with a whole raspberry. Refrigerate leftovers. Raspberry Cream Filling: Beat cream cheese well. Add powdered sugar and whipped topping to cream cheese. Mix well. Stir berries into filling. To fill crepes: Spoon filling down the center of crepe and fold both sides in to close. Variation: Use a few tablespoons of raspberry jam instead of raspberries. Or use fresh sliced strawberries instead of raspberries in filling and garnish. Note: Frying the crepes is a bit time consuming, but the delightful result is well worth the effort! Treat your sweetheart to these for breakfast or dinner!