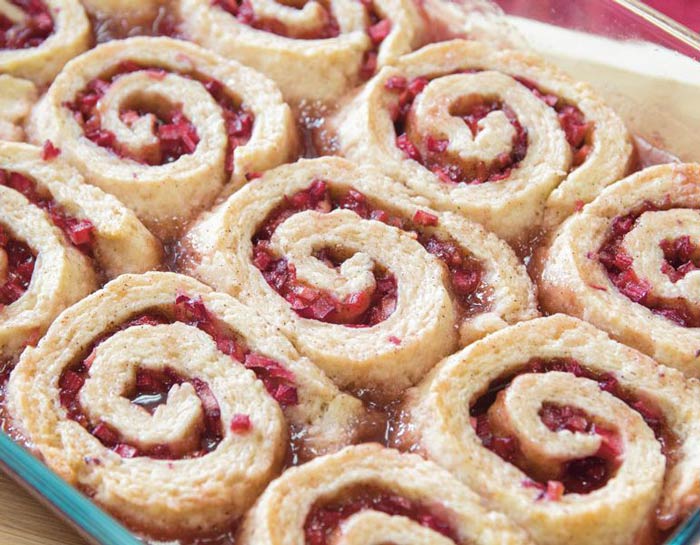 INGREDIENTS:
Dough:
2 c. flour
1/2 tsp. salt
2 tsp. baking powder
2 1/2 Tbsp. butter
7/8 c. milk (3/4 cup + 2 tablespoons)
Filling:
2 c. dry rhubarb
butter part softened
brown sugar
cinnamon
Sauce:
1 c. brown sugar
dash of cinnamon
1/2 tsp. salt
small lump butter
2 Tbsp. flour, heaping
2 c. hot water
DIRECTIONS:
Dough: Mix together flour, salt and baking powder. Mix in butter. Add milk; mix well. Filling: Roll dough to 1/4-inch thick rectangle, spread with soft butter, sprinkle with brown sugar and dry rhubarb and then sprinkle with cinnamon. Roll up like cinnamon rolls. Cut into 2-inch slices. Place in pan. Pour sweet sauce over and around and bake. Sauce: Mix sugar, salt, butter and flour in saucepan on oven. Add water, stirring continually so it won't scorch. Boil for 3 minutes. Pour over dumplings and bake. Bake at 350° for 20-30 minutes or until done. Very good when served with milk.