Salted Caramel Pumpkin Muffins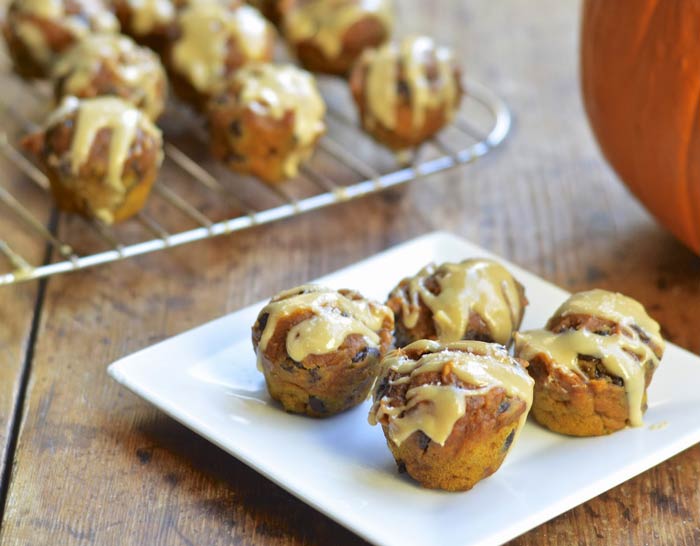 INGREDIENTS:
1 c. sugar
1 c. brown sugar
3/4 c. vegetable oil
1 1/2 tsp. soda
1/2 tsp. baking powder
1 tsp. salt
2 tsp. cinnamon
1/2 tsp. nutmeg
1/4 tsp. cloves
2 c. canned pumpkin
2 eggs
3 c. flour or 2 c. whole wheat flour
1/4 c. water
Salted Caramel Glaze:
4 Tbsp. butter
3 Tbsp. brown sugar
3 Tbsp. sugar
1/8 tsp. salt
1 tsp. vanilla
2 Tbsp. milk or cream
2-4 Tbsp. powdered sugar, sifted
DIRECTIONS:
Combine sugars and oil, beat until well blended. Add soda, baking powder, salt, and spices, beat just until blended. Blend in pumpkin and eggs. Stir in flour and water just until combined. Divide into greased or lined muffin tins. Bake at 350° for 25-30 minutes. Salted Caramel Glaze: Heat the first 6 ingredients over medium heat, stirring constantly. Remove from heat. Whisk in the powdered sugar, enough to thicken slightly. Spoon over slightly cooled muffins. Sprinkle with sea salt. Serves 15-20 people.